Skeptical News for 14 November 2010
Archive of previous NTS Skeptical News listings
---
Sunday, November 14, 2010
Evolution education update: November 12, 2010
Creationists renew their assault on evolution education in Louisiana. Plus three more museums add their voices for evolution, and a preview of Brian Switek's Written in Stone.
TEXTBOOKS UNDER SIEGE IN LOUISIANA
"Some proposed high school biology textbooks are under fire because critics say they put too much credibility in the theory of evolution," the Baton Rouge Advocate (November 9, 2010) reports. Barbara Forrest, a professor of philosophy at Southeastern Louisiana University and a cofounder of the Louisiana Coalition for Science, charged that the criticisms were orchestrated by the Louisiana Family Forum, a religious right group with a long history of promoting creationism and attacking evolution education in the state. "They had their people going through the books, writing up complaints and sending them," Forrest said.
Darrell White of the Louisiana Family Forum told the Advocate that the proposed biology textbooks fail to comply with the so-called Louisiana Science Education Act, the 2008 antievolution law that his organization shepherded through the legislature. "If this was a beauty contest, we have got all ugly contestants in these biology textbooks." The LSEA (enacted as Louisiana Revised Statutes 17:285.1) purports to encourage teachers to promote "critical thinking skills, logical analysis, and open and objective discussion of scientific theories being studied including, but not limited to, evolution, the origins of life, global warming, and human cloning" and allows teachers to use "supplemental textbooks" in order to do so.
"What has happened," Forrest told the newspaper, "is that the Louisiana Family Forum is attacking the process of textbook selection" in the hope of forcing disclaimers to be added to the textbooks (as in neighboring Alabama), requiring the revision of their treatment of evolution, or encouraging the use of supplemental classroom materials that dispute evolution. (In 2002, the LFF attempted to convince the state to include evolution disclaimers in biology textbooks, as Forrest noted in a July 26, 2010, letter to the editor of the Hammond Daily Star.) Moreover, several critics of the textbooks were reported to complain specifically that the textbooks under consideration lacked information about "intelligent design".
A decision on the high school life science textbooks in question, expected initially in October 2010, was deferred by the state Board of Elementary and Secondary Education until December 2010; a recommendation from the board's Textbook/Media/Library Advisory Council -- described by the Advocate as "little-known" -- is expected on November 12, 2010. The council includes a state senator and a state representative appointed by the governor; interestingly, the legislators presently on the council are Senator Ben W. Nevers (D-District 12) and Representative Frank A. Hoffman (R-District 15), who were the chief sponsors of the LSEA in the Louisiana Senate and House of Representatives in 2008.
For the Baton Rouge Advocate's story, visit:
http://www.2theadvocate.com/news/106937789.html
For the Louisiana Coalition for Science, visit:
http://lasciencecoalition.org/
For Forrest's letter to the Hammond Daily Star, visit:
http://www.hammondstar.com/articles/2010/07/26/opinion/letters/9055.txt
And for NCSE's previous coverage of events in Louisiana, visit:
http://ncse.com/news/louisiana
MORE MUSEUMS ADD THEIR VOICES FOR EVOLUTION
The chorus of support for the teaching of evolution continues, with statements from the Australian Museum, the Natural History Museum of Los Angeles County, and the Museum of the Earth.
The statement from the Australian Museum reads, in its entirety, "The Australian Museum supports the teaching of evolution as the scientifically tested and verifiable theory for the origin and development of all species on Earth. In doing so, the Australian Museum's position is that creationism or intelligent design should not be taught as part of the science curriculum."
The Natural History Museum of Los Angeles County's statement explains, "Evolution is a central concept in modern science," and adds, "Because understanding evolution is important for both scientists and the public, the Natural History Museum emphasizes that evolutionary biology belongs in school curricula and textbooks as well as in public museums."
And the statement from the Museum of the Earth (in Ithaca, New York) emphasizes that "essentially all qualified scientists fully endorse the idea that all organisms on earth share a common ancestry and that life's unfolding has encompassed billions of years of time. Evolution is one of the cornerstones of modern science, and is therefore one of the key elements of our institutional mission."
All three of these statements are now reproduced, by permission, on NCSE's website, and will also be contained in the fourth edition of NCSE's Voices for Evolution.
For the statements, visit:
http://australianmuseum.net.au/BlogPost/Editorials-and-opinions/Evolution-Statement
http://www.nhm.org/site/sites/default/files/pdf/nhm_evolution_statement.pdf
http://www.museumoftheearth.org/outreach.php?page=overview/evolution
For Voices for Evolution, visit:
http://ncse.com/voices
A PREVIEW OF WRITTEN IN STONE
NCSE is pleased to offer a free preview of Brian Switek's Written in Stone: Evolution, the Fossil Record, and Our Place in Nature (Bellevue Literary Press, 2010). The excerpt discusses the evidence for the dinosaurian ancestry of birds: "There is scarcely anything about a pigeon perched on a statue or a chicken you eat for dinner that did not first appear in dinosaurs, long before Confuciusornis flew in great flocks over what is now China," Switek writes. "The majority of their relatives sunk into extinction sixty-five million years ago, but they are perhaps the most successful dinosaurs ever to have evolved. If you want to see living dinosaurs, you don't have to trek to a steaming jungle or isolated plateau. All you have to do is put up a bird feeder and look out the window." Niles Eldredge writes, "Elegantly and engagingly crafted, Switek's narrative interweaves stories and characters not often encountered in books on paleontology -- at once a unique, informative and entertaining read."
For the preview of Written in Stone (PDF), visit:
http://ncse.com/files/pub/evolution/Excerpt--writteninstone.pdf
For information about the book from the publisher, visit:
http://www.blpbooks.org/books/writteninstone.html
Thanks for reading! And don't forget to visit NCSE's website -- http://ncse.com -- where you can always find the latest news on evolution education and threats to it.
Glenn Branch
Deputy Director
National Center for Science Education, Inc.
420 40th Street, Suite 2
Oakland, CA 94609-2509
510-601-7203 x310
fax: 510-601-7204
800-290-6006
branch@ncse.com
http://ncse.com
Subscribe to NCSE's free weekly e-newsletter:
http://groups.google.com/group/ncse-news
NCSE is on Facebook, YouTube, and Twitter:
http://www.facebook.com/evolution.ncse
http://www.youtube.com/NatCen4ScienceEd
http://twitter.com/ncse
NCSE's work is supported by its members. Join today!
http://ncse.com/membership
The Mass Libel Reform Blog — Fight for Free Speech!
http://scienceblogs.com/pharyngula/2010/11/the_mass_libel_reform_blog_fig.php
Category: Politics • Weirdness

Posted on: November 11, 2010 8:05 AM, by PZ Myers
This is a message from Simon Singh:
This week is the first anniversary of the report Free Speech is Not for Sale, which highlighted the oppressive nature of English libel law. In short, the law is extremely hostile to writers, while being unreasonably friendly towards powerful corporations and individuals who want to silence critics.
The English libel law is particular dangerous for bloggers, who are generally not backed by publishers, and who can end up being sued in London regardless of where the blog was posted. The internet allows bloggers to reach a global audience, but it also allows the High Court in London to have a global reach.
You can read more about the peculiar and grossly unfair nature of English libel law at the website of the Libel Reform Campaign. You will see that the campaign is not calling for the removal of libel law, but for a libel law that is fair and which would allow writers a reasonable opportunity to express their opinion and then defend it.
The good news is that the British Government has made a commitment to draft a bill that will reform libel, but it is essential that bloggers and their readers send a strong signal to politicians so that they follow through on this promise. You can do this by joining me and over 50,000 others who have signed the libel reform petition at http://www.libelreform.org/sign
Remember, you can sign the petition whatever your nationality and wherever you live. Indeed, signatories from overseas remind British politicians that the English libel law is out of step with the rest of the free world.
If you have already signed the petition, then please encourage friends, family and colleagues to sign up. Moreover, if you have your own blog, you can join hundreds of other bloggers by posting this blog on your own site. There is a real chance that bloggers could help change the most censorious libel law in the democratic world.
We must speak out to defend free speech. Please sign the petition for libel reform at http://www.libelreform.org/sign
Louisiana Citizens Horrified that there's Evolution in Science Books
http://www.religiondispatches.org/dispatches/laurilebo/3719/louisiana_citizens_horrified_that_there%E2%80%99s_evolution_in_science_books/
Lauri Lebo
November 11, 20105:08AM Post by Lauri Lebo Comments (7)EmailPrintShare A group of Louisiana citizens, believed to be backed by the conservative Christian Louisiana Family Forum, are attacking the state's proposed biology textbooks because, well, they teach too much evolution.
The Baton Rouge Advocate reported this week that a state panel is scheduled to review the issue Friday after the state's school board held off adopting the biology I and biology II textbooks due to the complaints.
Winston White, one of the residents who complained about the books, said, "It's like Charles Darwin and his theory is a saint. You can't touch it."
It's worth noting that White is the son of Darrell White, who was one of the Louisiana Family Forum founders. This move is all part of an ongoing broader strategy, one that the LFF, which is affiliated with Focus on the Family, has been behind since the beginning.
Darrell White also told the Advocate that the textbooks don't comply with the anti-evolution law known as the "Louisiana Science Education Act," which the Family Forum helped write and successfully lobbied for in 2008. The LSEA instructs educators to promote "critical thinking skills, logical analysis, and open and objective discussion of scientific theories being studied including, but not limited to, evolution, the origins of life, global warming, and human cloning." It also allows teachers and school districts to use "supplemental textbooks," which are just code words for creationist and pro-intelligent design materials.
Barbara Forrest, a philosophy professor at Southeastern Louisiana University, co-founder of Louisiana Citizens for Science and one of the creationist movement's most damning critics, said she believes the complaints are merely a tactic to get disclaimers (Warning: These books teach evolution!) added to the textbooks, or pave the way for the inclusion of creationist supplemental materials.
Other people who lodged complaints said they did so because the books didn't teach intelligent design.
In written comments to state officials, David Mathers, of West Monroe, said he would "like to see intelligent design explained as an alternate theory to the theory of evolution." Curt Eberts, of Monroe, made the same point. He faulted a biology textbook he reviewed for lacking material on the concept of intelligent design. The textbooks are reviewed every seven years. So, just who is on this panel that will review the complaints Friday and make recommendations to the state school board? According to the National Center for Science Education:
The council includes a state senator and a state representative appointed by the governor; interestingly, the legislators presently on the council are Senator Ben W. Nevers (D-District 12) and Representative Frank A. Hoffman (R-District 15), who were the chief sponsors of the LSEA in the Louisiana Senate and House of Representatives in 2008. Anybody want to place a bet on what the panel will recommend?
OPINION Our views: Keep politics out of texts
http://www.2theadvocate.com/opinion/107375348.html
Post by Lauri Lebo
Published: Nov 12, 2010
When the state boards of education in Texas and Kansas bent to political pressure and began to censor or amend textbooks through distortions of science and history, those states were embarrassed in the nation.
We hope that experience is much on the minds of the committee that today will hear complaints about textbooks for high school biology in Louisiana.
The process of approving textbooks for use in schools is a public one, as it should be. The public has a right to be heard, and we applaud those willing to participate in the political process at any level.
But it is the duty of the committee members not to be politicians — a couple of the members are state legislators — or representatives of public opinion. The committee members have a duty to reject intrusion of pseudo-science, such as creationism or its offshoot "intelligent design," into science classrooms.
This debate is an old one in Louisiana. Proponents of creationism and its ilk wrap or unwrap religion from their cause when it suits them politically. But just about every mainstream faith is accepting of the theory of evolution that is the basic building block for all scientific understanding of life on Earth.
It's one thing to be different culturally, as Louisiana is in so many ways. But the facts of science and biology do not change. For Louisiana to be different in the direction of ignorance would be a humiliation in the eyes of the nation and the world.
Panel endorse textbook that describes evolution
http://www.2theadvocate.com/blogs/politicsblog/107526929.html
Posted by Will Sentell | Capitol News Bureau | on November 12, 2010 | 11:00 a.m. UPDATED 1:15 p.m.
Bill Feig/The Advocate
A state advisory panel Friday voted 8-4 to endorse a variety of high school science textbooks that have come under fire for how they describe evolution.
The vote was followed more than three hours of discussion.
Two of the "no" votes were cast by Senate Education Committee Chairman Ben Nevers, D-Bogalusa, and House Education Committee Vice-Chairman Frank Hoffmann, R-West Monroe.
The decision likely paves the way for the state Board of Elementary and Secondary Education to approve the textbooks when it meets Dec. 7-9.
The textbooks that triggered criticism were approved earlier this year by a review committee that spent months studying them.
But final action on the biology I and biology II, and environmental science textbooks was delayed by BESE last month amid criticism that they put too much credence in Charles Darwin's theory of evolution.
Backers of the books said Darwin's ideas are widely accepted in the scientific community and that continuing debate in Louisiana is an embarrassment.
"We have been here before," said Tammy Wood, a veteran educator in East Baton Rouge Parish who has been involved in previous controversies over the teaching of evolution.
"I don't know why we are here again," Wood said.
Ian Bins, who teaches science education at LSU, said debate over evolution in Louisiana sparks negative comments nationally.
"It is a very embarrassing issue," Bins said.
Kevin Carman, dean of the College of Science at LSU, said evolution "is inextricably infused with all of biology.
"It is why we need to include that in our curriculum," Carman said.
But Lennie Ditoro of Mandeville, who has worked previously with the Louisiana Family Forum, said the science textbooks are flawed.
"The books are really weak on the side of examining scientific evidence," Ditoro told the Textbook/Media/Library Advisory Council.
"Let's not teach the kids that there is no controversy in the scientific community," she added.
The Louisiana Family Forum describes itself as a group that promotes traditional values.
Some officials of the organization said earlier this week that they are concerned about the round of science textbooks, which are generally renewed in seven-year cycles.
Darwin's theory is that life forms have changed over time by mutations, with the pressure of natural selection determining which species survive.
Critics on Friday did not cite specific textbooks or passages.
Instead, they said school books they reviewed made it appear that Darwin's theory has virtually no detractors.
Charles Voss, a professor at LSU for 42 years, said Darwin himself devoted three chapters in "Origin of the Species" to criticism of evolution.
"There are plenty of cons," Voss said of the theory.
"Why can't we do that in the classroom?" he asked, a reference to teaching about anti-evolution views.
Critics on Friday said their complaints focus on questions about scientific evidence, not religion.
However, some textbook opponents filed written complaints that said intelligent design should be explored along with the theory of evolution.
Intelligent design advocates believe the universe stems from an intelligent designer rather than by chance.
Nancy Beben, director of curriculum standards for the state Department of Education, said the textbook review began in January.
Members of the state Textbook Adoption Committee, who are named by state and district educators, studied submissions from a wide range of publishers.
"They literally spend the entire summer reviewing these textbooks," Beben said.
All but the life science textbooks under fire were approved by BESE last month.
Those under scrutiny by the advisory council on Friday were approved by the textbook committee on 12-0 and 11-1 votes, she said.
--30--
By MELINDA DESLATTE
Associated Press
A state panel recommended Friday that Louisiana's top education board adopt a new batch of high school biology textbooks, despite complaints that evolution is taught too matter-of-factly in the books.
An advisory council, made up of educators and lawmakers, voted 8-4 to recommend that the new life science textbooks be approved for use in high school classrooms. The state Board of Elementary and Secondary Education will make a final decision on the books next month.
Most of those who testified before the council supported the books and objected to any inclusion of disclaimers about the theory of evolution or of provisions about intelligent design — which has been barred by federal courts from being taught as an alternative to evolution.
"There is no major research university in this country that teaches intelligent design or anything like that. It is simply not science," said Kevin Carman, dean of the LSU College of Science. "We need our textbooks to be focused on what is scientifically accurate and not religion."
High school senior Zachary Kopplin said any attempts to include a disclaimer against evolution in a biology text book or promote intelligent design and creationism would harm Louisiana's reputation and undermine the teaching of science to students.
Many people who submitted written comments objected to the proposed biology books, saying they should include information about intelligent design and don't offer enough questioning about certain parts of evolutionary theory.
"Children need to understand what is an assumption and what is empirical evidence," said Lennie Ditoro, who works with the Christian conservative group Louisiana Family Forum and asked the council to recommend that BESE not adopt the new textbooks.
Ditoro said the proposed textbooks include errors and outdated material and fail to explain the many scientific challenges to evolution.
"Teaching Louisiana's students to look carefully at all the data and better understand evolution will only make them better thinkers, citizens and scientists. Assertion by dogmatic proclamation that no controversy exists over evolution is neither factual nor consistent with our state's science benchmarks," wrote Charles Voss, a retired LSU engineering professor, in his written objections to the textbooks.
Friday's meeting was the first time the advisory group had met since 2002. It includes, principals, librarians, teachers, curriculum directors in local school districts and two lawmakers.
Both lawmakers, Sen. Ben Nevers, D-Bogalusa, and Rep. Frank Hoffmann, R-West Monroe, voted against recommending the textbooks. Nevers raised concerns about the costs of the textbooks and the length of the seven-year contracts with textbook companies.
State education department officials outlined a book review process that includes a committee of teachers who comb through the proposed books, the receipt of public comments at libraries, in writing and in person, the discussion by Friday's advisory council and then debate before BESE.
Local school districts decide which books to use from the list of BESE-approved textbooks, said Nancy Beben, who oversees curriculum standards for the state Department of Education.
Districts can use a limited slice of their funding for books outside of the state-approved list, if they choose. Local teachers and school districts also are allowed under state law to use materials in science classes beyond the state-approved textbooks, though not to promote a religious doctrine.


---
Thursday, November 11, 2010
In the Creationist Universe, Religious Dogma Trumps Scientific Inquiry
http://www.huffingtonpost.com/michael-zimmerman/religious-dogma-trumps-sc_b_779029.html
Michael Zimmerman, Ph.D..Founder, The Clergy Letter Project
Posted: November 10, 2010 02:47 PM
The issue is as clear as any could be and demonstrates the kind of litmus test that proponents of religious fundamentalism impose on their adherents -- even on their stars. And make no mistake about it, William Dembski is a first order star in the intelligent design firmament. He is a prolific author who has earned both a Ph.D. in mathematics as well as a Masters of Divinity degree. He is a fellow of the Discovery Institute and a professor of philosophy at Southwestern Baptist Theological Seminary. Indeed, you can't read anything about intelligent design without encountering Dembski's arguments in support of this version of creationism.
And yet, according to an article in Florida Baptist Witness, even his stellar creationist credentials were not enough to keep the inquisitors from his door. As the article describes it, Paige Patterson, president of Southwestern Baptist Theological Seminary, called Dembski into his office along with "several high-ranking administrators at the seminary."
At issue were two of Dembski's beliefs, as expressed in his latest book The End of Christianity and elsewhere: that the earth is 4.5 billion years old and the universe 14 billion years, and that Noah's flood was regional rather than worldwide.
Again, according to the article in Florida Baptist Witness, "At that meeting, Dembski was quick to admit that he was wrong about the flood, Patterson said."
Patterson went on to say, "Had I had any inkling that Dr. Dembski was actually denying the absolute trustworthiness of the Bible, then that would have, of course, ended his relationship with the school."
Prior to the meeting but in response to growing criticism (and in direct contradiction to what he said in The End of Christianity), Dembski wrote, "As a biblical inerrantist, I believe that what the Bible teaches is true and bow to the text, including its teaching about the Flood and its universality."
This simple admission, an acknowledgement that he "bow[s] to the text" on issues of science, removes Dembski from any consideration as a real scientist. Consider his statement of faith in light of the motto adopted in the 1600s by the Royal Society of London, the oldest extant scientific society in the world. Their motto, a translation and a paraphrase of a line from Horace's Epistulae, reads as follows:
I am not bound to swear allegiance to any master.
Where the storm carries me, I put into port and make myself at home.
Real scientists let the evidence lead them to their conclusions. The pseudoscientists known as creationists use the Bible to generate their conclusions and twist the data to conform. What is so very sad, if not surprising, is that previously Dembski claimed to rely on science for part of his work. For example:
I do not regard Genesis as a scientific text. I have no vested theological interest in the age of the earth or the universe. I find the arguments of geologists persuasive when they argue for an earth that is 4.5 billion years old. What's more, I find the arguments of astrophysicists persuasive when they argue for a universe that is approximately 14 billion years old. I believe they got it right. Even so, I refuse to be dogmatic here. I'm willing to listen to arguments to the contrary. Yet to date I've found none of the arguments for a young earth or a young universe convincing. Nature, as far as I'm concerned, has an integrity that enables it to be understood without recourse to revelatory texts.
To be fair to those who have forced Dembski to walk away from his scientific principles, at this point some, but certainly not all, are willing to turn a blind eye to his old earth views if not his views on Noah's Flood. The Florida Baptist Witness notes that Patterson "believes that proper exegesis of the early chapters in Genesis requires a young earth. But he also said that young- and old-earth creationists banding together to combat evolution is more important than internal debates among creationists."
So, while Patterson would fire Dembski over his views on the Flood, when it comes to the age of the earth, he takes the position that any enemy of my enemy is my friend.
Not everyone agrees with that view, though. Albert Mohler, president of Southern Baptist Theological Seminary said, "Theologically, the historical Adam as the common ancestor of the human race is the most important issue. But the question is, how in the world do you end up with an historical Adam if you have an old earth? It's becoming increasingly clear that an old earth implies something other than an historical Adam." Kurt Wise, yet another prominent creationist and a professor of biology at Truett-McConnell College said, "it is impossible to consistently believe in both an old earth and inerrant Scripture."
Although the news of Dembski's retractions appeared a few weeks back, I waited to write about it to see how the creationist community would respond. Surely, those who vigorously promoted Ben Stein's movie Expelled (a film that famously pretended that a scientific orthodoxy relentlessly fired world class scientists who held dissenting views) would come to his defense. Not surprisingly, not a peep of protest has been heard.
Ben Stein meet Paige Patterson, apparently the most moderate of the fundamentalist inquisitors: "Had I had any inkling that Dr. Dembski was actually denying the absolute trustworthiness of the Bible, then that would have, of course, ended his relationship with the school."
Follow Michael Zimmerman, Ph.D. on Twitter: www.twitter.com/mzclergyletter


---
Wednesday, November 10, 2010
Mohler's rejection of evolution criticized for harming witness
http://www.abpnews.com/content/view/5859/53/
By Bob Allen
Tuesday, November 09, 2010
RICHMOND, Va. (ABP) -- A member of a group dedicated to fostering dialogue between faith and science claims that a Southern Baptist leader's pronouncements that evolution and Christianity are incompatible undermine evangelical witness to the scientific community.
Mark Sprinkle, part of a multidisciplinary group of evangelical scholars called the BioLogos Foundation, wrote in his blog Nov. 8 to criticize Southern Baptist Theological Seminary President Albert Mohler. He blasted Mohler's attacks on fellow Christians who believe an evangelical witness will not be considered intellectually serious today if it denies scientific truth.
Mohler has jousted before with the BioLogos forum over his insistence that evolutionary theory and Christianity are competing worldviews that are irreconcilable.
"The theory of evolution is incompatible with the gospel of Jesus Christ, even as it is in direct conflict with any faithful reading of the Scriptures," Mohler wrote this summer in rebuttal to criticism by a BioLogos vice president.
Sprinkle, who has a Ph.D. in art, said Mohler's logic not only bolsters the arguments of atheists who say the same thing, but his polemical tone arms skeptics with "another proof that our faith is a foolish and destructive lie."
Sprinkle said that Mohler's claim that "one cannot be a fully functioning, authentic Christian and hold that God created using the process of evolution" is not really about the compatibility of science and faith. It is rather, he said, "about the limits that Dr. Mohler has put on God's ability to redeem and transform whomever He so pleases, in whatever manner He so pleases."
"Particularly coming from the head of the largest Southern Baptist seminary, Dr. Mohler's repeated implications and suggestions, if not outright pronouncements, that I and anyone else who does not reject evolutionary processes are, therefore, not Christian in any but a nominal or diminished way, not authentic followers of Jesus no matter what we say and despite the evidence of the Holy Spirit both in us and working through us, seems to me to fly directly in the face of one of the central facets of Baptist tradition -- that my salvation and relationship with the Father is not a matter for rulers or authorities or institutions to decide," Sprinkle wrote. "Is there not a danger that 21st century ecclesiastical rulers and authorities might unwittingly oppose the Spirit through their all-too-human decrees, though their intention be to defend doctrines that are good and true and right?"
Sprinkle called on Mohler to "refrain from condemning (even by faint praise) those whom the Spirit has sanctified and is sanctifying" and to "put off the too-common practice of acting as if we know everything we need to know about those on the other sides of these issues from what we read on-line."
Mohler responded in his own blog Nov. 9 that he has never questioned the salvation of anyone related to BioLogos and that he takes at face value that their aims are worthy.
"At the same time, Dr. Sprinkle's unavoidable implication is that God's Spirit moves in ways contrary to God's Word," Mohler said. "That I do flatly and energetically reject."
"Virtually every form of theological liberalism arises from an attempt to rescue Christian theology from what is perceived to be an intellectual embarrassment," Mohler said, "whether the virgin conception of Christ, the historicity of the miracles recorded in the Bible, or, in our immediate context, the inerrancy of Scripture and the Bible's account of creation."
-30-
No Pass from Theological Responsibility – The BioLogos Conundrum
http://www.christianpost.com/article/20101109/no-pass-from-theological-responsibilitythe-biologos-conundrum/
Tue, Nov. 09 2010 09:48 AM EDT
By R. Albert Mohler, Jr.|Christian Post Guest Columnist
Public debate is unpredictable by nature, but I have to admit that the approach undertaken by the folks at BioLogos continues to amaze me. The BioLogos movement is a straight-forward attempt to persuade evangelical Christians to embrace some form of evolutionary theory. Organized by a group that includes Dr. Francis Collins, now the Director of the National Institutes of Health, the movement seeks to marginalize objections to evolution among conservative Christians. It offers a very sophisticated website and an energetic communications strategy.
View Full ImageThe BioLogos approach to the issue is now clear. They want to discredit evangelical objections to evolution and to convince the evangelical public that an acceptance of evolution is a means of furthering the gospel. They have leveled their guns at the Intelligent Design movement, at young earth creationism, and against virtually all resistance to the embrace of evolution. They claim that the embrace of evolution is necessary if evangelicalism is not to be intellectually marginalized in the larger culture. They have warned that a refusal to embrace evolution will doom evangelicalism to the status of an intellectual cult.
Furthermore, they have been breathtakingly honest about the theological implications of their arguments. Writers for BioLogos have repeatedly made the case that we must relinquish the inerrancy of the Bible and accept that the biblical writers worked from a defective understanding of the world and its origins. They have asserted, for example, that the Apostle Paul was simply wrong in assuming that Adam was an historical person from whom all humans are descended. They have been bold and honest in rejecting the biblical account of the Fall as historical. They have warned that an affirmation of biblical inerrancy has led evangelicalism into an "intellectual cul-de-sac." A complete inventory of the doctrinal concessions they will demand is not yet in sight, but as I have affirmed before, they deserve credit for the honesty of their proposals.
They are also clear about their motive. In their view, the acceptance of evolution is necessary for evangelism. They are motivated, they insist, by a concern that a rejection of evolution puts Christians in a position of intellectual embarrassment. The rejection of evolution places Christians outside the intellectual pale, they assert, leading to the discrediting of the gospel. They believe that intellectuals, especially scientists, will not respect an evangelistic witness to the gospel from one who is intellectually discredited by rejecting evolution. They are embarrassed by the fact that a majority of evangelicals reject evolution, and they honestly believe that some people will not come to know Christ because they are so offended by our unwillingness to accept evolution. They have repeatedly asserted that the credibility and integrity of our Christian witness is at stake.
The writers for BioLogos have been unsparing in their criticism of evangelicals who believe in the inerrancy of the Bible or are proponents of either Intelligent Design or creationism. They initiated a public debate by presenting their arguments in the public square. But now, it appears, they really do not want a public debate at all. They want a one-way conversation.
On November 8, an article appeared at the BioLogos site that was explicitly addressed to me. The author, Mark Sprinkle, had courteously informed me by e-mail on November 7 that the article would appear the next day. And so it did.Continue »
In his article, Dr. Sprinkle uses the account of Peter and Cornelius from Acts 10 to argue that "our theology is descriptive, not prescriptive; it is our collective and halting attempt to describe in coherent terms what we know of God by what we have seen of His acts and what we have read in His Word-and, above all else, by what we have seen in the acts of the Word, Jesus." That argument points very clearly in the direction of minimizing theology and doctrine, but it is also false. Unless a church forfeits all doctrinal responsibility, at least some theology is always prescriptive.
But theology, he argues, "is put to the test not just by our logic, but by the witness of what God is doing in our lives and in the lives of others around the world." He then states this: "Evidence of the Spirit at work is the only true measure we have of our theology; all other measures, including whether it fits our carefully-reasoned arguments of who is in and who is out, are vanity."
That is an interesting statement, but it is nonsensical unless there is some means of evaluating what is and is not authentic evidence of the Spirit at work. And that, of course, would mean some kind of biblical and theological test. The effort to escape theology gets us nowhere.
Dr. Sprinkle then turns to me specifically, charging that I regard those involved with BioLogos to be "confused Christians" at best. He claims that my criticism of the arguments made by figures associated with BioLogos amount to my effort to limit "God's ability to redeem and transform whomever He so pleases, in whatever manner He so pleases." I would greatly appreciate any reference to where I have ever addressed such an issue with reference to BioLogos. There is none. At the same time, Dr. Sprinkle's unavoidable implication is that God's Spirit moves in ways contrary to God's Word - and that I do flatly and energetically reject.
Dr. Sprinkle writes with concern about "Dr. Mohler's repeated implications and suggestions, if not outright pronouncements, that I and anyone else who does not reject evolutionary processes are, therefore, not Christian in any but a nominal or diminished way, not authentic followers of Jesus no matter what we say and despite the evidence of the Holy Spirit both in us and working through us."
At this point, given the public nature of this statement, I have to ask the only question I know to ask. Can these people read? I defy anyone to locate a single sentence where I have ever questioned the salvation of anyone in any context where I have addressed anything related to BioLogos. I have never questioned their salvation, nor have I attempted to interrogate their hearts. I accept at face value that their ambitions and intentions in their own minds are worthy. I cannot read their souls.
I can read their words, however. Their theological arguments are published in the public arena. They are not shy about making their proposals, and they call for a radical reformulation of evangelical doctrine. Their assaults upon biblical inerrancy have not been made in private conversations, but in public discourse. Their argument that the Apostle Paul was wrong to believe in an historical Adam and an historical Fall was made in public, as was their denial of common descent through Adam.
They will have to take responsibility for these arguments. They should expect no less than a spirited debate over their proposals, and it is nothing short of bewildering that they now ask, in effect, for a pass from all theological scrutiny. They accuse conservative evangelicals of driving evangelicalism into an "intellectual cul-de-sac" and into the status of an intellectual "cult," and then they have the audacity to complain of the "tone" of those who argue that their proposals amount to a theological disaster.
Virtually every form of theological liberalism arises from an attempt to rescue Christian theology from what is perceived to be an intellectual embarrassment - whether the virgin conception of Christ, the historicity of the miracles recorded in the Bible, or, in our immediate context, the inerrancy of Scripture and the Bible's account of creation.
Dr. Sprinkle kindly invites me "to come and see what I see in the hearts and lives of people in the BioLogos community." I am willing and eager to enter into any conversation that serves the cause of the gospel. But a conversation that serves the cause of the gospel cannot avoid talking about what the gospel is - and that requires theology.
BioLogos is a movement that asserts theological arguments in the public square in order to convince evangelical Christians to accept their proposals. They now have the audacity to ask for a pass from theological responsibility. That is the one thing they may not have.
Adapted from R. Albert Mohler Jr.'s weblog at www.albertmohler.com. R. Albert Mohler, Jr. is president of The Southern Baptist Theological Seminary in Louisville, Kentucky. For more articles and resources by Dr. Mohler, and for information on The Albert Mohler Program, a daily national radio program broadcast on the Salem Radio Network, go to www.albertmohler.com. For information on The Southern Baptist Theological Seminary, go to www.sbts.edu. Send feedback to mail@albertmohler.com. Original Source: www.albertmohler.com.
R. Albert Mohler, Jr.
Christian Post Guest Columnist
Copyright © 2010 Christianpost.com
Stephan A. Schwartz: Willful Ignorance
http://www.capitolhillblue.com/node/34969
By Huffington Post
The most important political and intellectual reality in America today can be seen in a 2006 CBS News poll, which found that a large segment of Americans "do not believe that humans evolved." This sentiment is usually discussed in religious terms. I suggest it should be seen as a political statement.
The Gallup Organization addressed the same issue, but also included the age of the Earth, and conducted a series of polls of American adults in 1982, 1991, 1993, 1997, 1999, 2001, and 2004. In each survey the wording of the questions was kept the same, so that the polls would be equivalents, and multi-year analyses could be carried out. Here is the data from the poll taken in November 1991. The only significant difference between this and the 2004 poll is that in 1982, 44 percent held the Creationist view and in 2004 this number was 45 per cent.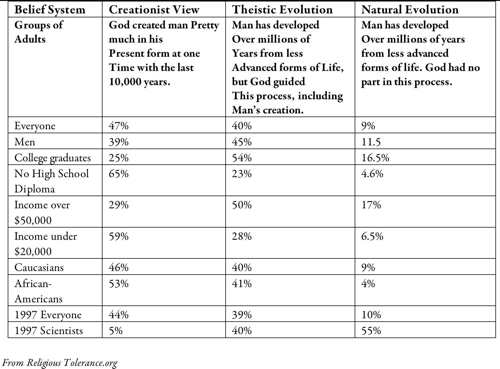 In 2005, The Pew Research Center for the People & the Press and Pew Forum on Religion & Public Life, carried out a poll involving 2,000 adults, that gives us another nuance of this prospective. They reported 42 percent of the public believed that "humans and other living things had existed in their present form since the beginning of time," and that this rose to 70 percent amongst White Evangelical Protestants, and decreased to 32 percent in mainline Protestant churches, and — surprising to some, perhaps — to 31 percent amongst White Catholics.
By 2006, the Creationist position was affirmed by 55 percent of Americans. Think for a moment about what this means: More than half of America has discarded much of the hard won knowledge of the past 500 years — essentially the age of modern science and medicine. Astrophysics. Gone. Astronomy, Gone. Paleontology. Gone. Geology. Gone. Biology. Mostly gone. Genetics. Gone. The general laws of physics such as the speed of light found to be defective. It is impossible to believe the Earth is less than 10,000 years old, that God manufactured it in six days, and that dinosaurs and humans once co-inhabited the planet, and accept any of those disciplines. As the Institute for Creation Research notes in its Tenets of Creationism, "…all genuine facts of science support the Bible." What many would think of as the crown jewels of the human intellect, part of what makes it possible to be optimistic about humanity must, in the worldview of Creationism have little or no weight.
This schism has powerful political implications. A 2007 Gallup poll found that, "The majority of Republicans in the United States do not believe the theory of evolution is true and do not believe that humans evolved over millions of years from less advanced forms of life."
The six-day literalism of this worldview I can understand, it is Scripturally based; these are Scriptural literalists. But the Book of Genesis says nothing about how old the earth is. It is worth spending a moment asking: where does this idea come from? It traces back to James Ussher (1581-1656). Living at the end of the reign of Elizabeth I, and into Cromwell's government, he rose to become head of the Irish Anglican Communion, in Roman Catholic Ireland, Archbishop of Armagh, and Vice Chancellor of Trinity College, Ireland's great university. He had begun as a brilliant scholar training at Trinity and like many academics was very competitive about advancing his scholarly prowess. Being a minority he was passionately committed to showing that Protestant scholarship was in scholarship as in faith superior to the Jesuit academy which dominated his world. Creationism had nothing to do with it. His was a 17th century version of an academic smackdown. It wasn't the date per se, it was widely believed the world was about 4,000 years old. The Astronomer Johannes Kepler (1571-1630) placed the date at 3992 B.C. What Ussher was trying for was less an exercise in theology than one in finer computation.
Working through the chapters of the Bible with great care, counting generations, and using whatever way points the Bible provided, "Adam lived 930 years and he died," Ussher pursued his self-set problem for 20 years, finally arriving at a date he felt he had proved. In the summer of 1650 he published from London, The Annals of the Old Testament. It begins: "In the beginning, God created heaven and earth, which beginning of time, according to this chronology, occurred at the beginning of the night which preceded the 23rd of October in the year 710 of the Julian period." In a marginalia in the right side of the opening page of his own copy of his work he scribbled, the date in "Christian" time — 4004 B.C.
Although Ussher gets the credit, he was actually preceded by six years, 1644, by his contemporary Sir John Lightfoot (1602-1675), Vice Chancellor of Cambridge (also a Protestant). In 1897, historian Andrew D. White in his book A History of the Warfare of Science with Theology in Christendom wrote,
…an overwhelming majority of the most competent students of the biblical accounts was that the date of creation was, in round numbers, four thousand years before our era; and in the seventeenth century, in his great work, Dr. John Lightfoot, Vice-Chancellor of the University of Cambridge, and one of the most eminent Hebrew scholars of his time, declared, as the result of his most profound and exhaustive study of the Scriptures, that "heaven and earth, centre and circumference, were created all together, in the same instant, and clouds full of water," and that "this work took place and man was created by the Trinity on October 23, 4004 B.C., at nine o'clock in the morning." (Emphasis added)
Why, then, do we know Ussher, and not Lightfoot, with whom he agreed, and who advanced a chronology honed to the hour? We do so because when Clarence Darrow was doing research for the 1923 Scopes "monkey" trial, in which he would examine William Jennings Bryan, he decided to use the Ussher chronology as a rhetorical weapon. He would force the anti-evolutionist Bryan to affirm or deny it. In one of history's great ironies, it was the examination that made people aware of it and, thus, Ussher's bizarre date entered American evangelical consciousness, and became a force in American political thought. Such that today 55 per cent of Americans have chosen what should be an obscure academic story, recounted at history conferences, over the millions of hours of scientific inquiry that have gone on since the 17th century publications of Lightfoot and Ussher. How can something like 150,000,000 million people be so willfully ignorant? And what are its implications for our democracy's health and well-being?
"Wherever there is a battle over evolution now, there is a secondary battle to diminish other hot-button issues like Big Bang and, increasingly, climate change. It is all about casting doubt on the veracity of science," physicist Lawrence M. Krauss of the Origins Initiative at Arizona State University told Leslie Kaufman of the New York Times last March. "To say it is just one view of the world, just another story, no better or more valid than fundamentalism."
When did ignorance become cool?
For the most part pollsters who do these surveys say it is not that Creationists know better, but publicly say something they feel they must to be good members of their denominations. No. This is something they believe. It is an act of proactive denial. And it has nothing actually to do with the spiritual aspect of human consciousness. It is entirely cultural. Spiritual awareness is gnostic and subjective, and universally sees all life as inter-connected, and interdependent, while demanding no particular intellectual mindset about how physical reality is organized. It is as easy to be a spiritual Tibetan lama as a Hopi shaman, a Jewish rabbi, or a meditating physicist.
It is the Founder's miracle that they devised, and each generation of America has honored, the cyclical bloodless revolutions we call elections. We have just re-enacted their design. Now we will see whether it is science or the calculations of two academics from shortly after the time of Shakespeare, intent on academic one-upmanship, which will define how we conduct ourselves scientifically and medically. If we choose willful ignorance our climate change policies will turn on it. It will decide what we do about stem cell research. It will effect how we educate our children. It will shape what America will become. For almost 30 years, since Ronald Reagan first took office, willful ignorance has been a brake holding back American science, particularly as it pertains to biology, medicine, and climate change. Are we going to make policy on the basis of data, or the dogma of willful ignorance? Think Progress gives us a hint:
Over 100 freshmen Republicans will take their seats in the 112th Congress. These GOPers come from disparate backgrounds, but they are united by their adherence to the extreme wing of conservative ideology — 50 percent deny the existence of man-made climate change; 86 percent are opposed to any climate change legislation that increases government revenue.
The initial signs are not good.
New Book Challenges Big Bang, Darwinism and Creationism
http://www.prnewswire.com/news-releases/new-book-challenges-big-bang-darwinism-and-creationism-107028103.html
CHICAGO, Nov. 10, 2010 /PRNewswire/ -- The Heaven at the End of Science: An Argument for a New Worldview of Hope, by Philip Mereton, takes a fresh and bold look at the debate between science and religion -- and attempts to go farther than any other book to unite them.
Instead of trying to show that religion is wrong because science is better at finding truth, or that science must be wrong because it leaves out God, this new book shows that if we eliminate the unnecessary assumptions of our modern, materialistic worldview, we wind up finding a way to connect the logical rigor of science with the hopes and dreams of religion.
The Heaven at the End of Science says that instead of viewing the universe as a random outcome of the Big Bang or as a special creation from the hand of God, why not see if we can explain the world as a powerful dream emerging from a universal mind, a mind some call God? It provokes the reader to think about the big questions, and inspire many to reach for higher goals only achievable in a dream world. This book gives a completely different perspective than modern science.
"In The Heaven at the End of Science Philip Mereton presents a well-argued, strongly documented and immensely readable critique of the worldview we have come to associate with modern science. In addition, he proposes a bold new cosmological hypothesis that he finds hospitable to the concerns of both science and religion. I strongly recommend this thoughtful book to anyone interested in these philosophically important matters." -- Gary A. Cook, Professor Emeritus of Philosophy, Beloit College
"The Heaven at the End of Science lucidly, comprehensively and inspiringly exposes the limits of materialist science. The author's 'Real Dream' provides an inspiration for a new worldview that transcends these limits." -- Lawrence Wile, M.D. Director, Chaikin-Wile Foundation
About the Author: Philip Mereton is a practicing lawyer with a philosophy degree whose mission in life is to expose the fallacies in our current materialistic worldview and to advance to a more promising - and rational - outlook. In pursuit of that mission, he spent 30 years studying the foundational ideas to our current scientific worldview and developing the arguments made in this book.
Editor's Note: Review copies and interviews with author arranged on request. Website: http://www.heavenattheendofscience.com
Title: The Heaven at the End of Science
ISBN: 978-0-615-29173-4
Publisher: Distant Drums Press
Paperback (9.0 inches by 6.0 inches); 413 Pages
Price: $19.95
Contact:
Cathy Minardi, Tel: 904-230-3299
cminardi01@bellsouth.net


---
Monday, November 08, 2010
Evolution education update: November 5, 2010
The latest addition to NCSE's website: articles in Spanish. And new praise for Not in Our Classrooms.

NCSE EN ESPAÑOL

NCSE is pleased to announce the debut of NCSE's Recursos en español -- the most popular articles from NCSE's website in Spanish translation. Already posted are Controversia acerca del creacionismo, Cuál es la edad de la tierra?, Dios y la evolución, Educación sobre la evolución, Enfrentando los problemas, Entre la ciencia y la religión, Primeras evidencias de vida, and ¿Cómo leer la Biblia? Permíteme contarte las maneras.

NCSE is grateful to Alejandra Estrin Dashe, Julian Giaccobe, Pedro Hernandez, Richard Rodriguez, and Lourdes Sanchez for translating and reviewing these articles. Further articles in Spanish will be posted in the future -- please let the NCSE office know if there are articles that you would especially like to see translated. And if you find these resources useful, please bookmark the Recursos en español page!

NCSE is still seeking volunteers to assist in translating selected resources from its website into Spanish. If you read and write both languages fluently, are interested in helping NCSE's outreach to the Spanish-speaking community, and are able to make a serious commitment to the project, you are cordially invited to get in touch with NCSE's Peter M. J. Hess at espanol@ncse.com.

Also invaluable for speakers of Spanish who wish to learn or teach about evolution is Comprendiendo la evolución para profesores -- a translation, provided by Sociedad Española de Biología Evolutiva (the Spanish Society for Evolutionary Biology), of the Understanding Evolution for Teachers section of the acclaimed Understanding Evolution website operated by the University of California Museum of Paleontology.

For Recursos en español, visit:
http://ncse.com/es

For Comprendiendo la evolución para profesores, visit:
http://www.sesbe.org/evosite/evohome.html

NEW PRAISE FOR NOT IN OUR CLASSROOMS

Four years after its publication, Not in Our Classrooms: Why Intelligent Design is Wrong for our Schools (Beacon Press, 2006), is still receiving praise from the reviewers. In the latest review, published in the Journal for the Study of Religion, Nature and Culture (2010; 4 [3]: 228-250), Mark H. Dixon of Ohio Northern University writes:

***

The papers in this volume serve to reinforce what those who have had a rigorous science education have long known: there are no real scientific controversies at all about evolution as a process. The evidence is as unequivocal as scientific evidence can be -- evolution is a discernible, testable, and verifiable scientific process. All that "intelligent design" proponents can do is to continue to sow confusion. While it is regrettable they are necessary, books like Not In Our Classrooms provide an accessible, illuminating, and most welcome perspective on the intelligent design movement.

***

Edited by NCSE's Eugenie C. Scott and Glenn Branch, Not in Our Classrooms contains essays by Scott, Nicholas J. Matzke and Paul R. Gross, Martinez Hewlett and Ted Peters, Jay D. Wexler, Brian Alters, and Branch, as well as a foreword by the Reverend Barry W. Lynn. Bill Nye the Science Guy recommends: "If you're concerned about scientific literacy, read this book."

For Dixon's review (PDF), visit:
http://www.equinoxjournals.com/JSRNC/article/view/9047/6903

For information about Not in Our Classrooms, visit:
http://ncse.com/nioc

Thanks for reading! And don't forget to visit NCSE's website -- http://ncse.com -- where you can always find the latest news on evolution education and threats to it.

Glenn Branch
Deputy Director
National Center for Science Education, Inc.
420 40th Street, Suite 2
Oakland, CA 94609-2509
510-601-7203 x310
fax: 510-601-7204
800-290-6006
branch@ncse.com
http://ncse.com

Subscribe to NCSE's free weekly e-newsletter:
http://groups.google.com/group/ncse-news

NCSE is on Facebook, YouTube, and Twitter:
http://www.facebook.com/evolution.ncse
http://www.youtube.com/NatCen4ScienceEd
http://twitter.com/ncse

NCSE's work is supported by its members. Join today!
http://ncse.com/membership


---
Sunday, November 07, 2010
What's ahead for the SBOE
http://www.mysanantonio.com/news/local_news/whats_ahead_for_the_sboe_106837148.html
Jan Jarboe Russell - Jan Jarboe Russell Web Posted: 11/07/2010 12:00 AM CDT
Given the vast amount of money and time devoted to make sure Texas rivals Mississippi for low taxes, low services and status as the most undereducated state in the union, even the smallest sign of progress is a glimmer of hope.
The election of Michael Soto, a Trinity University professor, to the State Board of Education, is one such indicator.
As the world knows, the 15 members of the SBOE, all of them publicly elected, have in recent years been wagingmano a mano ideological warfare.
Rather than focus on the hard work of public education, the SBOE has tackled creationism vs. Darwinism and abstinence vs. sex education, marginalized Thomas Jefferson for advocating "separation of church and state," refused to acknowledge the role of important Latinos in Texas history and condemned a contrived pro-Islam bias in world history textbooks.
In short, it's been a long-running series of cultural wars.
When I caught up with Soto last week, he sounded remarkably sanguine for a man about to take his place in the center of a political tornado.
"I think the board that is seated in January will be more centered on public education," Soto said. "It's impossible to predict, but I believe — and hope — there will be less turmoil."
What is the basis for hope? First, there's the almost imperceptible change in the board's makeup. Then there's the estimated $18 billion to $21 billion shortfall in the state budget that will shift the debate over education in Texas from curriculum quarrels to more basic concerns such as how to keep the doors open in public schools.
From a partisan standpoint, Republicans picked up one seat on the board. The number of Democrats dropped from five to four, including Soto, which makes the count 11 R's and four D's.
But not all the new Republicans support the seven-member conservative bloc. Don McLeroy, the leader of that bloc, lost in the primary to Thomas Ratliff, a more moderate Republican. Cynthia Dunbar, one of the ultra-right members, didn't seek re-election and was replaced by Marsha Farney, a Republican who isn't firmly identified with either group.
The conservatives still have five solid votes. Ken Mercer, a San Antonio software engineer, who was re-elected in a heavily Republican district, will lead the bloc.
Since the state budget is bleeding red ink, there won't be enough money to purchase whole new science books — supplemental materials will be added instead. That may save us from a new fight-fest on Darwinism.
On the other hand, nothing can stop the SBOE from working on a new curriculum for health textbooks, which means more division over sex education.
Soto won because of a committed effort on the part of grass-roots parents, both Democrats and Republicans, who figured it made sense for a qualified educator to sit on this board. It's a start.
Imagine if after the 2010 elections, the SBOE members, all of whom will be up for re-election, focused on math, science, technology, great literature, critical thinking and the kind of critical seeing done by artists. That would be education for the kids — not the partisans — and that's the kind of public education Texas needs.
jrussell@express-news.net
Sarfati tour challenges evolution champion Dawkins
By Shara Lee
"EVOLUTION is a fact. Beyond reasonable doubt, beyond serious doubt, beyond sane, informed, intelligent doubt, beyond doubt evolution is a fact."
So states high profile atheist Richard Dawkins in the first chapter of his latest book, The Greatest Show on Earth: The Evidence for Evolution.
The author of The God Delusion then goes on to claim that "the evidence for evolution is at least as strong as the evidence for the Holocaust . . . It is the plain truth that we are the cousins of chimpanzees, somewhat more distant cousins of monkeys, more distant cousins still of aardvarks and manatees, yet more distant cousins of bananas and turnips -- continue the list as long as desired."
The publisher's introduction calls Dawkins' book "a stunning counterattack on advocates of 'Intelligent Design' . . . exposing the absurdities of the creationist 'argument.'" It asserts that evolution "is accepted as scientific fact by all reputable scientists, and indeed theologians.
One scientist who begs to differ is Jonathan Sarfati. The chemist and author, who works with Creation Ministries International, is finishing a tour of Canada -- whose purpose has been to challenge the credibility of Dawkins' views.
Battle of the books: two erudite authors clash on life's origins.
Sarfati is also promoting his recently published book, The Greatest Hoax on Earth? Refuting Dawkins on Evolution. In his introduction, he gives his opponent mixed reviews, stating: "Dawkins writes in a lucid style. He throws in much informative material from real science which keeps the reader interested; but this is mixed with many speculations, and not a few diversionary indulgences -- e.g. creationist-bashing. His overall message is, however, anything but inspiring: we are robots programmed by DNA to replicate more copies of that DNA."
The author recently spoke to CC.com about the state of the debate on the issue of life's origins.
As he toured the country, he said, he shared his beliefs with a handful of secular professors and students -- but he noted that his main target audience were Christians. Many believers, he said, are afraid of the evolution/creationism debate -- because they don't know how to defend their stance.
"They're only taught evolution, and are intimidated by science," said Sarfati. He said the mission of his tour was to educate Christians, so that they would then have the knowledge to educate others.
Sarfati said he believes the reason most of mainstream society has adopted evolution as fact is because they are given no viable alternative in the public education system. It is the theory that is approved for school curriculums, and it is thus the view that is overwhelmingly supported by mainstream media.
For example, in Canada, Dawkins has appeared on several programs -- including the Current, the Hour, and even the CBC's religion/spirituality program, Tapestry; creationists have not been given an equal opportunity to respond. "The media is overwhelmingly liberal," said Sarfati. He went on to state that very few of the people who support evolution go to church.
He felt the need to specifically refute Dawkins, because of his notoriety as the world's leading Darwinist and one of the key proponents of a militant new form of atheism. At a conference in Melbourne, Sarfati invited Dawkins to join him in a debate. Dawkins, however, declined.
According to Sarfati, people need to hear the truth of biblical accounts. "Along the way, we abandoned Genesis as real history." He hastened to add that, although he does believe Genesis is a true account of the world's creation, he said that "literal" was not quite the right word to use. But he maintained that it was written in a style which the original readers of Hebrew would have interpreted as real history.
While many creationists have not been able to accept the evolutionist concept of natural selection, Sarfati believes this theory fits with God's plan. "Creationists have worked out natural selection," he said. Sarfati likened natural selection to the process of a "sculptor sculpting" -- as opposed to something evolving on its own.
Regarding the origin of the human race, Sarfati said he believes "Adam was a special creation -- and from him Eve" was made from dust -- but filled with the breath of life from God. Salvation, he contended, is linked to the historical reality of the first couple. "Luke 3 traces the ancestry of Jesus directly back to Adam," he said.
Dawkins is on record as a scornful opponent of organized religion. In his 1997 essay, 'Is Science a Religion?' he presented the view that parents who teach their children about religion are inflicting "mental child abuse" upon them.
Sarfati's response to this comment was equally blunt: "It shows the inflamatory and paranoid language that atheists use." He also stated that the use of such irresponsible rhetoric undermines the seriousness of actual mental child abuse.
"In North America, evolutionists bamboozle [people] in the science," said Sarfati. "Atheism has prospered by stealth, by making God irrelevant for the real world." He said he sees his job as encouraging others to challenge evolution, and demonstrating how biblical assumptions are necessary in understanding the history of the world. He cited archaeology as one effective means, maintaining that there is a lot of archaeological evidence to support what the Bible says.
In addition to his latest book, Sarfati battles the 'evolution establishment' as an editorial consultant for Creation Magazine, a quarterly publication with a wide variety of articles featuring scientists who do believe in biblical facts.
November 4/2010
Millionaire Teesside school sponsor wins legal battle
http://www.gazettelive.co.uk/news/teesside-news/2010/11/05/millionaire-teesside-school-sponsor-wins-legal-battle-84229-27606818/
Nov 5 2010 by Joanna Desira, Evening Gazette
THE millionaire sponsor of a Teesside school has won a legal fight to counter claims he was imposing Christian fundamentalist views on children.
Sir Peter Vardy took action in the High Court in London, against Tribune Magazine and its editor Chris McLaughlin which published an article last year claiming creationism was being taught in the four schools his foundation sponsored.
Sir Peter has said he has been "saddled" with the creationism label for many years, and wanted to set the record straight.
His Emmanuel Schools Foundation established The King's Academy, Coulby Newham, Bede Academy, Northumberland, Emmanuel School, Gateshead and Trinity Academy, Doncaster.
Last month he announced the schools were being transferred to the United Learning Trust.
The offending article was published on October 5, 2009 under the headline "Creationist Claptrap that Beggars Belief."
It claimed: "By virtue of donating £2m of the £22m it cost the taxpayer to build an academy, the Vardy Foundation can impose its fundamentalist beliefs on children through the science curriculum."
It added: "Children in State Schools, funded by taxpayers' money, are being taught in biology lessons that evolution is as much a 'theory' as creationism and that everything was designed by a God creator as stated literally in Genesis."
A statement read out at the High Court by Sir Peter's legal representative said: "None of these allegations is correct. The schools funded via the Emmanuel Schools Foundation are not even faith schools, let alone ones which advocate creationism."
It added: "Both the Tribune and its Editor now accept the allegations made in the article concerning Sir Peter Vardy and his Foundation are untrue, and they have apologised to him for any damage which they have caused to his efforts to improve the education of the underprivileged. They also accept that Sir Peter is not a creationist, and still less has sought to advance the teaching of creationism by means of the sponsorship of education in the UK."
The statement said the magazine and its publisher had agreed to pay a sum by way of damages to a charity of Sir Peter's choice.
Sir Peter said he had been "saddled with this unwarranted and wholly untrue 'creationist' label for many years."
He said: "In order to set the record straight, I was forced to take action in the High Court of Justice, which reflects the seriousness with which I take the matter."
He added he believed in a creative God but does not know how long it took Him to create the world.
A statement for the defendants read out in court said they accepted what had been said by Sir Peter's solicitor adding: "They have apologised for and withdrawn the allegations made in the article, and agreed not to republish them."
No one was available for comment from The Tribune.
Read More http://www.gazettelive.co.uk/news/teesside-news/2010/11/05/millionaire-teesside-school-sponsor-wins-legal-battle-84229-27606818/#ixzz14be6BTcT
Why not debate both sides of evolution, creationism?
Michael E. Hughes, Candler • November 5, 2010
The AC-T editorial board claims there's only one side to the issue in "Public schools should teach scientific fact, not religion." Darwin's theories monopolize America's classrooms, yet the AC-T says that's insufficient. Academic freedom is suppressed and leading scientists refuse to debate. No wonder the U.S. is 17th worldwide in science literacy.
Darwin believed one species could become another. That is scientifically impossible in my opinion. Changes do occur within a particular species, as any dog breeder can prove. Crossbreeding or interbreeding produces hybrids only of the same kind. Darwin knew nothing of DNA, which functions as a software program designed by a programmer with unlimited intelligence. Darwin had no knowledge of the intricate nanotechnology that exists within cells, or of their irreducible complexity.
Galileo's faith in an active Creator produced his scientific discoveries. And it was religious skeptic/secular humanist Kurt Vonnegut (1922 - 2007) who said: "Scientists are pretending they have the answer as to how we got this way when natural selection couldn't possibly have produced such machines."
Open science proves God's creation to be more marvelous than Darwin envisioned. Darwin's prophetic statement that future scientists would be able to "view both sides of the question with impartiality" is still premature.
The Natural History Museum of Los Angeles County Statement on Evolution
http://www.nhm.org/site/sites/default/files/pdf/nhm_evolution_statement.pdf
The Natural History Museum of Los Angeles County is a collections-based research and educational institution that relies on science to enhance our knowledge of the natural world.
The goal of science is to acquire ever-increasing understanding of the objects and events we encounter. Such understanding is obtained through the continual critical evaluation of testable hypotheses and theories.
Evolution is a central concept in modern science. Evolutionary theories are supported by evidence from such diverse fields as genetics, paleontology, chemistry, and physics. The use of evolutionary biology as a means of acquiring understanding is consistent with the overall goal of science, as the theories involved are available to critical evaluation. Evolutionary biology allows us to explain the amazing diversity of life on Earth today and how diversity has changed over time.
Because understanding evolution is important for both scientists and the public, the Natural History Museum emphasizes that evolutionary biology belongs in school curricula and textbooks as well as in public museums. Although the topic is sometimes portrayed as controversial, it is no more controversial among scientists than are the theories explaining gravity, light, sound, or electricity.
The Natural History Museum, with its mission to inspire wonder, discovery, and responsibility, recognizes that evolutionary biology is fundamental to understanding biological diversity and is critical for both scientific research and museums. The Museum welcomes people of all beliefs and backgrounds to join us as we explore, through science, the wonders of the natural world.
Good starting places for finding additional information about evolution and its relation to other concepts and issues include:
• Science, Evolution, and Creationism (a publication of the National Academy of Sciences) http://decapoda.nhm.org/pdfs/27680/27680.pdf
• Evolution 101 (Museum of Paleontology, University of California Berkeley) http://evolution.berkeley.edu/evosite/evohome.html
• National Center for Science Education http://www.ncseweb.org
• The Clergy Letter Project http://www.butler.edu/clergyproject/rel_evol_sun.htm
More museums add their voices for evolution
http://ncse.com/news/2010/11/more-museums-add-their-voices-evolution-006279
November 5th, 2010
The chorus of support for the teaching of evolution continues, with statements from the Australian Museum, the Natural History Museum of Los Angeles County, and the Museum of the Earth.
The statement from the Australian Museum reads, in its entirety, "The Australian Museum supports the teaching of evolution as the scientifically tested and verifiable theory for the origin and development of all species on Earth. In doing so, the Australian Museum's position is that creationism or intelligent design should not be taught as part of the science curriculum."
The Natural History Museum of Los Angeles County's statement explains (PDF), "Evolution is a central concept in modern science," and adds, "Because understanding evolution is important for both scientists and the public, the Natural History Museum emphasizes that evolutionary biology belongs in school curricula and textbooks as well as in public museums."
And the statement from the Museum of the Earth (in Ithaca, New York) emphasizes that "essentially all qualified scientists fully endorse the idea that all organisms on earth share a common ancestry and that life's unfolding has encompassed billions of years of time. Evolution is one of the cornerstones of modern science, and is therefore one of the key elements of our institutional mission."
All three of these statements are now reproduced, by permission, on NCSE's website, and will also be contained in the fourth edition of NCSE's Voices for Evolution.


---
Thursday, November 04, 2010
Do Power Balance wristbands work?
http://news.yahoo.com/s/yblog_weekend/20101104/ts_yblog_weekend/do-power-balance-wristbands-work
By Dominique Dawes
Thu Nov 4, 1:32 am ET
When I was training for three different Olympic Games, I was always looking for that added edge; something that could help increase my endurance, strength, flexibility, and even my balance. These are keys to success for any athlete, especially an Olympic gymnast. I remember how grueling the training could be. It was not easy to train for two hours starting at 6 a.m. while pushing myself to exhaustion, then coming back to the gym only hours later for a full five-hour training session with an expectation of more strength and stamina. Since there wasn't much recovery time when I was sitting in school all day, I would resort to popping vitamins, indulging in protein bars, and swigging energy drinks for that edge. Sometimes they worked, sometimes they didn't.
So when I heard that Power Balance wristbands claim to increase your strength and stamina and improve your balance, the skeptic in me came out. The fact is, all athletes know that nothing can replace good old-fashioned hard work — practice, practice, practice. Well, maybe not Allen Iverson. But the majority of us high-caliber athletes know that the added edge comes from pushing yourself beyond your limit each and every day in practice. It's as simple as that — or is it? Can a silicone wristband with a hologram sticker really give you an added edge?
Surprisingly, many professional athletes believe it can, so I had to try it out for myself. To put things in perspective, nowadays my training consists of yoga, Pilates and plyometrics, which is quite different from my Olympic training 10 years ago — but the former athlete in me was quite eager to put Power Balance to the test. So me and 15 volunteers signed up to see if Power Balance's claims could be proven scientifically.
A series of tests began with a sit-and-reach exercise, designed to measure our hamstring flexibility. Then came an obstacle course, which tested our balance, strength, agility and stamina. It started with a run across a balance beam, followed by a weight test, where we held 30-pound weights in each hand as we ran swiftly between cones, all while being timed. We were each required to take a trial run without a wristband on. Once the actual testing began, we endured four runs through the obstacle course while wearing one of four different labeled wristbands that had tape covering the area where the hologram on the Power Balance wristband would be. We were told that the wristbands "may or may not contain the hologram" — the element that's supposed to be the "special sauce" of Power Balance, working with one's bodily energy flow to increase balance, strength and/or stamina. You can see the results of our scientific test in the video on this page.
Now, unless this wristband gives me the strength and stamina to train for the London 2012 Olympics, then I will still be skeptical. The idea of competing against my fellow yogis who can hold a posture longer or a stretch further is not necessarily an added edge. That's just me.


---
Wednesday, November 03, 2010
http://www.punknews.org/review/9728
Religion in a World Without God [book] (2010)
Greg Graffin / Steve Olson
iT Books (Harper Collins)
Contributed by: frankiebos516
Published on November 2nd 2010
I'm currently living on Catholic Church property. I read this book while I've been here. I'm not a religious person, but I do have my beliefs and I'm living on this property because I'm doing the type of work (not evangelizing or indoctrinating) where I feel that the ends justify the means. Like I said, I do have my faith, though, and reading Anarchy Evolution has challenged every thread of it.
Greg Graffin is smarter than you'll probably ever be. If not smarter, he's probably way better at articulating his smarts. I guess a PhD from Cornell will do that to you. That and an undergraduate and master's degree from UCLA. Those and 30 years of driving his point straight home via fronting Bad Religion. He's got some good practice and it almost feels way past due that he's written something like Anarchy Evolution. What's great about it, though, is that he has enough experience to cull from, where much like almost any Bad Religion song, there's no filler. Every line complements the last and will keep you engaged throughout.
Paralleling science with playing in a punk rock band and being involved in its surrounding culture seems like no easy task. Graffin takes it on and conquers it, though. He uses ecological analogies to describe the continued popularity of Bad Religion. He also compares crate diggers, or what he refers to them as "vinyl vermin," to himself as a scientist early on in his career.
Here's what he has to say about Bad Religion's 30 years of success...
"We consider our audience a precious and finite resource... Whenever we prepare to go on tour or produce a new Bad Religion record, we think about the negative aspects of overmilking our fans. We liken this overmilking to overhunting during the late Pleistocene or overfishing off the Peruvian coast. We respect our fans' intelligence and their desire to see and hear something new and special from us. Without our "core" fans, the band could not continue. We need to cultivate them by offering them new songs and playing live concerts for them with the hope that their enthusiasm for us will grow."
Here's another good one, especially for you know-it-all Punknews.org readers...
"Have you ever met anybody with an encyclopedic knowledge of obscure rock bands?... There could be an obscure garage band from England that released just five hundred copies of a single album. None of the rest of us would have ever heard of the band, but the vinyl vermin could tell you more about it than you ever wanted to know... The problem with most vinyl vermin, I've found, is that they let their knowledge of trivia overwhelm their judgment. Despite their encyclopedic learning, I can't recall having a single discussion with them about whether any of the bands were actually any good... The lesson I learned from the vinyl vermin was that the most important thing about gathering information is what you do with it. The 'secret language' of taxonomy might have made me feel special, but words applied to fossil species (or obscure words) didn't satisfy me."
It's like that.
He also includes some amazingly candid stories, in which he is unabashed in his nerdiness, such as one about when he'd just played a show in Brazil and had women lined up at his hotel to sleep with him. Here's what he did in that situation...
"It was nearly midnight when our tour manager alerted me about my 'guests' downstairs. I was lonesome and far from home, and Rio women are legendary... I was dreaming instead of my planned adventure for the coming morning – seeing the last vestiges of Atlantic rain forest."
Dude, seriously?
I guess it's better than, like, dandelions in a field or something, but c'mon man!
But seriously, Greg Graffin has worked with the best in the world of science and seems to be one of them now. He speaks of his time spent conversing and sipping tea with Richard Dawkins, author of the highly acclaimed The God Delusion, as well as with his various experiences with high-ranking scientists and professors in the scientific fields. But, while Anarchy Evolution, which might as well be short for "There Is No God, Nor Intelligent Design, All Things Happen Randomly," comes off like a well-written thesis from start to finish, and it's not condescending, which is most impressive. The facts are there and they're there in bold form, but his intention is not to force them down your throat.
He states, "When I create, I feel that I am a participant in the grand pageant of life, a part of the ongoing creative engine of the universe. I don't know if that feeling is enough to replace the solace of religion in the lives of most people, but it is for me.
Secular society warns against 'intelligent design' in Scottish schools
http://www.christiancentury.org/article/2010-11/secular-society-warns-against-intelligent-design-scottish-schools
Nov 02, 2010 by Trevor Grundy
Edinburgh, 2 November (ENI)--Britain's National Secular Society has warned against undermining the teaching of evolution in Scottish schools after the setting up in Glasgow of a centre on "intelligent design", the idea that the universe is the result of a creative mind.
"The Scottish educational establishment needs to set up safeguards, similar to those which already exist in England and Wales, to ensure that creationism doesn't get into science lessons and create confusion in children's minds," said Terry Sanderson, president of the secular society, which says it promotes the rights of atheists, agnostics and other non-believers.
Sanderson was speaking after the opening in September of Glasgow's Centre for Intelligent Design. Its president is Norman Nevin, emeritus professor of medical genetics at Queen's University in Belfast, and its vice-president is Dr David Galloway, the vice president of the Royal College of Physicians and Surgeons.
The centre states that intelligent design is the belief that "the natural and living worlds show clear signs of being designed and are not the result of blind, purposeless forces". Opponents of the theory assert that it is really a new version of biblically-based creationism, although the centre rejects this assertion.
Publicly-funded schools in England and Wales were told by the government in 2006 that material distributed to educational establishments advocating "intelligent design" should not be used in the teaching of science.
Sanderson told ENInews that the secular society does not object to creationism being discussed in religious education lessons, while noting, "If you're talking about what the various religions believe, that's part of their teachings so there's no avoiding it. But as far as science is concerned, we don't need that kind of confusion."
The intelligent design centre's director, Alastair Noble, said the centre had not been established to target schools.
"We don't have specific resources for schools, although there is one text available examining the case for and against neo-Darwinism that we can make available to high schools and colleges, if they wish to have it," said Noble, an education officer with CARE, an agency that campaigns for Christian perspectives across a range of public policy issues.
"We're about giving visibility to an argument that needs to be heard and which is shouted down before anyone gets an opportunity to hear what it is," Noble said in an interview with ENInews.


---
Tuesday, November 02, 2010
Chupacabra Science: How Evolution Made a Mythical Monster
http://news.nationalgeographic.com/news/2010/10/101028-chupacabra-evolution-halloween-science-monsters-chupacabras-picture/
Parasites turn coyotes into "goat suckers," scientists say.
Ker Than for National Geographic News
Published October 28, 2010
Tales of a mysterious monster that sucks the blood of livestock have exploded in Mexico, the U.S. Southwest, and even China since the mid-1990s, when the chupacabra, or chupacabras, was first reported in Puerto Rico (map).
Now, just in time for Halloween, scientists say they can explain the stories with the help of evolutionary theory.
Flesh-and-blood chupacabras have allegedly been found as recently as June—making the monsters eminently more accessible for study than, say, the Loch Ness monster or Bigfoot. (See "Bigfoot Hoax: 'Body' Is Rubber Suit.")
In almost all these cases, the monsters have turned out to be coyotes suffering from very severe cases of mange, a painful, potentially fatal skin disease that can cause the animals' hair to fall out and skin to shrivel, among other symptoms. (Related: "'Balding' Bears: Mangy Mystery in Florida.")
For some scientists, this explanation for supposed chupacabras is sufficient. "I don't think we need to look any further or to think that there's yet some other explanation for these observations," said Barry OConnor, a University of Michigan entomologist who has studied Sarcoptes scabiei, the parasite that causes mange.
Likewise, wildlife-disease specialist Kevin Keel has seen images of an alleged chupacabra corpse and clearly recognized it as a coyote, but said he could imagine how others might not.
"It still looks like a coyote, just a really sorry excuse for a coyote," said Keel, of the Southeastern Cooperative Wildlife Disease Study at the University of Georgia.
"I wouldn't think it's a chupacabras if I saw it in the woods, but then I've been looking at coyotes and foxes with mange for a while. A layperson, however, might be confused as to its identity."
Chupacabra Evolution
Sarcoptes scabiei also causes the itchy rash known as scabies in humans. In humans and nonhuman animals alike, the mite burrows under the skin of its host and secretes eggs and waste material, which trigger an inflammatory response from the immune system.
In humans, scabies—the allergic reaction to the mites' waste—is usually just a minor annoyance. But mange can be life threatening for canines such as coyotes, which haven't evolved especially effective reactions to Sarcoptes infection.
The University of Michigan's OConnor speculates that the mite passed from humans to domestic dogs, and then on to coyotes, foxes, and wolves in the wild.
His research suggests that the reason for the dramatically different responses is that humans and other primates have lived with the Sarcoptes mite for much of their evolutionary history, while other animals have not.
"Primates are the original hosts" of the mite, OConnor said. "Our evolutionary history with the mites help us to keep [scabies] in check so that it doesn't get out of hand like it does when it gets into [other] animals."
In other words, humans have evolved to the point where our immune systems can neutralize the infection before the infection neutralizes us. (Related: "Future Humans: Four Ways We May, or May Not, Evolve.")
The mites too have been evolving, suggested the University of Georgia's Keel. The parasite has had time to optimize its attack on humans so as not to kill us, which would eliminate our usefulness to the mites, he said.
In nonhuman animals, Sarcoptes hasn't figured out that balance yet. In coyotes, for example, the reaction can be so severe that it causes hair to fall out and blood vessels to constrict, adding to a general fatigue and even exhaustion.
"Goatsucker" Explained?
Since chupacabras are likely mangy coyotes, this explains why the creatures are often reported attacking livestock.
"Animals with mange are often quite debilitated," OConnor said. "And if they're having a hard time catching their normal prey, they might choose livestock, because it's easier."
As for the blood-sucking part of the chupacabra legend, that may just be make believe or exaggeration.
"I think that's pure myth," OConnor said.
"Evolution" of a Legend
Loren Coleman, director of the International Cryptozoology Museum in Portland, Maine, agreed that many chupacabra sightings—especially the more recent ones—could be explained away as appearances by mangy coyotes, dogs, and coyote-dog hybrids, or coydogs.
"It's certainly a good explanation," Coleman said, "but it doesn't mean it explains the whole legend."
For example, the more than 200 original chupacabra reports from Puerto Rico in 1995 described a decidedly uncanine creature.
"In 1995 chupacabras was understood to be a bipedal creature that was three feet [about a meter] tall and covered in short gray hair, with spikes out of its back," Coleman said.
But, as if in a game of telephone, the description of the chupacabra began to change in the late 1990s due to mistakes and mistranslations in news reports, he said.
By 2000 the original chupacabra had been largely replaced by the new, canine one. What was seen as a bipedal creature now stalks livestock on all fours.
"It was actually a big mistake," Coleman said.
"Because of the whole confusion—with most of the media reporting chupacabras now as dogs or coyotes with mange—you really don't even hear any good reports from Puerto Rico or Brazil anymore like you did in the early days. Those reports have disappeared and the reports of canids with mange have increased."
First Chupacabras: Monkeys or Movie Madness?
So what explains the original chupacabra myth?
One possibility, Coleman said, is that people imagined things after watching or hearing about an alien-horror film that opened in Puerto Rico in the summer of 1995.
"If you look at the date when the movie Species opened in Puerto Rico, you will see that it overlaps with the first explosion of reports there," he said.
"Then compare the images of [actor] Natasha Henstridge's creature character, Sil [picture], and you will see the unmistakable spikes out the back that match those of the first images of the chupacabras in 1995."
Another theory is that the Puerto Rico creatures were an escaped troop of rhesus monkeys on the island, which often stand up on their hind legs.
"There was a population of rhesus monkeys being used in blood experiments in Puerto Rico at the time, and that troop could have got loose," Coleman said.
"It could be something that simple, or it could be something much more interesting, because we know that new animals are being discovered all the time."
The strange science and ethics of the anti-vaccine movement
http://scienceblogs.com/insolence/2010/11/the_strange_science_and_ethics_of_the_an.php
What does it mean to be "anti-vaccine"? Willful ignorance as a campaign platform
Posted on: November 2, 2010 8:00 AM, by Orac
One of the great things about having declared Vaccine Awareness Week is that it gives me a convenient excuse to revisit topics and blog posts that I had meant to address but that somehow didn't make the cut the first time around. This is the sort of thing that happens fairly frequently in blogging, where there is far too much woo and idiocy for one blogger to have even a hope of ever addressing it all.
And that's just the anti-vaccine movement.
In any case, if there's one thing about the anti-vaccine movement that I've noticed, it's that its members have a very warped view of both science and ethics. Last week on the anti-vaccine crank propaganda blog Age of Autism in the form of two posts within two days of each other. The first was by Kent Heckenlively, who is notorious for having taken his autistic daughter to Costa Rica for stem cell quackery and for subjecting her to all manner of biomedical woo. His post is entitled "Science Stoppers" and the Question of Autism. In this post, Heckenlively tries to liken those who criticize his pseudoscientific pontifications about autism and vaccines to creationists--evolution deniers!--and labels them, like creationists, as "science stoppers." The second post is by the ever-clueless Jake Crosby, who tries to amp up the moronicity even higher by attacking Art Caplan and Paul Offit for "endangering children" through their unrelenting defense of vaccines. It would be hilarious if it weren't so pathetic, particularly given how much arrogance it takes for Jake to think that he can actually stand his own arguing ethics with an internationally respected senior bioethicist and how Jake tries to parody the title of Paul Offit's forthcoming book by entitling his post How Vaccine Damage Deniers Threaten Us All.
Denialism. You both keep using that word. I do not think it means what you think it means.
Let's deal with Heckenlively first. He starts out by proudly trying to burnish his scientific cred by pointing out how much he loves evolution:
Professor Padian was one of the chief expert witnesses in the Dover trial in which a local school board was trying to adopt a creationist textbook. Now I should probably confess I've been an evolution freak since the age of three when I fell in love with dinosaurs. My job as a science teacher gives me free rein to talk about such issues and also get paid for my eccentric interests.
Heckenlively also doesn't want to piss off the religious too much; so he tries to have it both ways by invoking without naming Stephen J. Gould's "non-overlapping magesteria":
I don't have much energy for attacking creationists, being a Catholic, and knowing our own tumultuous history of trying to mix faith with science. Although I went to a Catholic college with a Galileo Science Hall, it would still be several years after I graduated that the Catholic Church finally rescinded his excommunication. After a couple centuries wrestling with the issue I think we've come up with a pretty good formulation that "science without faith is blind, and faith without science is lame." I believe in God (I'm actually a eucharistic minister in my parish) and science, but they live in different zip codes.
Wow! That sounds so...reasonable--or at least accommodationist. Now, don't worry. I'm really not going to get into the whole "militant" versus "accommodationist" wars over how best to overcome resistance to science that derives from religious beliefs or ideology. I'm really not. Although I leapt head first into the "framing wars" back in the day, these days I find such discussions tiresome in the extreme and now almost actively avoid such discussions. I'm far more interested in using Heckenlively's utter missing of the point to demonstrate something about the anti-vaccine movement. First, here's where Heckenlively introduces his point:
What really interested me in professor Padian's talk was the masterful way in which he showed multiple lines of evidence for the turning of a fin into a foot, the development of feathers in theropod dinosaurs, and how whales went from land to water animals. Then he said something about creationist arguments against evolution which I felt went to the heart of why so many of us don't trust the medical authorities when it comes to the vaccine-autism issue.
He said that creationist arguments against evolution are "science stoppers" because they discourage the efforts of the human mind to understand evolution in all its complexity.
It's true, too, of course. Creationist arguments against evolution, when stripped of all their science-y sounding glitz, basically boil down to "God did it" or a "God of the gaps" argument. Such arguments are indeed "science stoppers." Unfortunately, as we say in the science biz, what we have here is a massive failure to generalize the example of creationism to other forms of science. Instead of understanding that vaccine denialism is every bit as much of a "science stopper" as the anti-evolution arguments favored by creationists, a-vaccine activists like Kent Heckenlively yoke the same sorts of fallacious arguments in the service of their anti-science agenda. As I described yesterday, they twist science to serve their agenda, favor anecdotes over epidemiology and science, cherry pick data, and make liberal use of logical fallacies when arguing. Kent often goes one further, though, in representing his pseudoscientific flitting from one woo to another based on whatever he's happened to heave heard about through the autism biomed quackery grapevine as being real scientific investigation, rather than disordered flights of fancy.
I also can't resist pointing out that, for all his transparent attempts otherwise, so toxic is the issue of evolution that Heckenlively managed to royally piss off some of his AoA readers. Indeed, there are several comments taking Heckenlively to task for having chosen the particular analogy that he chose, although they are just as hilariously off-base as Heckenlively's himself. Indeed, a commenter named Willie was particularly outraged that Heckenlively gave "the reader the impression that you believe that the theory of evolution has merit and creation and God do not in a similiar way that biomedical is discounted by pro vaccine idiots." Truly, this is crank magnetism in action. Heck, it's a veritable crank schism over the issue of evolution. In any case, Heckenlively accuses scientists of the same sins against science that evolution denialists commit because they don't accept the pseudoscience:
With voluminous accounts of parents detailing how the problems of their children began after a vaccination it's nothing less than a crime that the medical authorities stop the science by claiming that the question has been "asked and answered." Nothing could be further from the truth. They have refrained from doing the type of population studies of vaccinated and unvaccinated populations which might yield promising information. How about also doing extensive biological studies of their immune systems to see what is going wrong?
Because, perhaps, we need some actual--oh, you know--scientifically convincing preliminary data that there is something going wrong? You know, just like we need actual evidence more convincing that small studies showing correlations between XMRV and both autism and chronic fatigue syndrome before doing huge studies to see if XMRV is actually a causative or contributing factor to either of these conditions.. Once again, Heckenlively values anecdote over science and doesn't understand that both science, practical, and ethical concerns actually do limit the sorts of science that can be done. We can't, for example, do a randomized, double blind of vaccinated versus unvaccinated children, even though that would be most bulletproof study. The logistics of even doing just an epidemiological study of vaccinated versus unvaccinated children are completely unappreciatedby the likes of Heckenlively and other anti-vaccine loons. So is the simple consideration that there has to be a biologically plausible mechanism, coupled with preclinical data including animal studies, to justify doing a human study.
Which brings us to Jake Crosby's attempt to take on a respected bioethicist, Art Caplan. Given Jake's past conspiracy-laden excretions, the results are ugly. Very, very ugly. I'm almost embarrassed for Jake. Well, not really. The kid's got to learn, except that, unfortunately, I don't think he's teachable.
The straw men fly fast and furious right out of the box. But first Jake can't resist his usual invocation of the pharma shill gambit. Really, Jake is so predictable that it wouldn't be hard to write a program to generate Jake Crosby posts. Simply program it to mention pharmaceutical companies any time a vaccine defender like Paul Offit or Art Caplan is mentioned, couple it with a whole lot of conspiracies mentioning big pharma, and add a dash of referring to vaccine science as "tobacco science" à la Dr. Jay Gordon. Actually, making a Jake Crosby AoA Post Generator would be so trivial that it would be unlikely that any decent programmer would want to do it. Too boring. After all, Jake seems to think that coopting the title of Paul Offit's book Deadly Choices: How the Anti-Vaccine Movement Threatens Us All is the height of cleverness and wit.
Jake tries to counter Art Caplan's argument that vaccines are good because they not only protect the recipient but protect others, thanks to herd immunity, which is a fairly simple ethical argument to make. Jake, showing that he's never taken an ethics course (or if he did he didn't retain anything from it), tries to turn that argument on its head:
What Caplan does not acknowledge, just setting aside efficacy and duration of vaccinations that also come into play, is that any adverse reaction associated with a vaccine will have a higher attributable risk by virtue of the fact that it is recommended for the general population as opposed to specific individuals. So, by holding vaccines to a lower standard of safety and stating people should have no choice over whether or not they get vaccinated as bio"ethicists" such as Caplan argue, the result is much more potentially devastating than it would be for a prescription pharmaceutical not administered to the population at large. In compelling everyone to vaccinate to protect herd immunity, there would also be a substantially greater herd risk. Perhaps this highlights the inherent conflict of public health officials being charged with both vaccinating as many people as possible and making sure the shots are safe.
Now that's a hunk of burning stupid, even by Jake's previous flaming standards.
First, Jake clearly doesn't seem to realize that attributable risk is defined as the difference in the incidence rate of a condition between an exposed and unexposed population. In other words, it's a fraction (as in 1 out of 100 or 1 out of 1000). I suppose, based on Jake's later statements, that he's trying to argue that vaccinating the entire population will endanger a greater fraction due to vaccine shedding (more below), but even that argument doesn't help him. Still, this is the least confused of Jake's confused argument that all derives from Jake's misconception that vaccines are somehow held to a lower standard of safety than other pharmaceutical medicines, which is absolutely ridiculous. It's actually because vaccines are administered to healthy children in order to prevent disease that necessitates holding vaccines to a very high degree of safety indeed. In order to make an argument that vaccines can cause a high attributable risk in the general population, it is necessary for Jake to rely on the usual anti-vaccine exaggerations of the true risk of vaccinating. Indeed, he's taken a page from AoA in vastly overplaying the potential harm and, more importantly, in exaggerating the chances that vaccines will cause harm. There are very real ethical issues regarding vaccinating populations against disease given that there is the very possibility of rare severe reactions. Jake's cartoonish treatment of the issue does none of these issues credit. In fact, Jake intentionally spits on the real ethical dilemmas that lie at the heart of public health interventions, so anxious is he to argue that vaccins do more harm than good.
He then spits on science, too, by doing what we in the biz call "making shit up." Well, not exactly. What he does is to cite all manner of pseudoscience as though it were true in order to pump up the apparent risk of vaccinating. He does this by trying to attack the herd immunity argument by claiming a "herd" harm due to vaccines:
Moving on to the MMR now, this vaccine may not pose the same kind of health threat - being a live-virus vaccine free of thimerosal - but it may very well adversely affect more than just those who take it. Research has confirmed the presence of vaccine-strain measles in the guts, blood, and cerebrospinal fluid of children with autism and bowel disease. However, no studies have been done to determine if the vaccine-strain causing these persistent infections can be communicable to others like wild measles, which is highly contagious. Despite the absence of proof, there is evidence that this may well be the case, based on what we already know about both the measles and live-virus vaccines. It has been known that virions from the latter can be shed from the recipient, causing other people to become sick, as is the case with smallpox vaccines. It is certainly plausible, at the very least, that this can happen with the MMR, too, and who knows what other live-virus childhood vaccines. The recipients of the chicken pox vaccine, for instance, are known to shed virus, causing shingles.
There's a famous line in Animal House in which Dean Wormer tells Flounder, "Fat, drunk and stupid is no way to go through life, son." My advice to Jake would be "Proudly and arrogantly ignorant is no way to go through life, son." There is a tool known as PubMed, which is your friend. Use it. Love it. Heed it. If you do, you'll find that secondary transmission of measles due to vaccination has never been documented despite the millions, if not billions, of doses of MMR given over the last 40 years. That's actually pretty persuasive evidence that virus shedding due to vaccines is not a significant risk to children who come in contact with vaccinated children. Moreover, if there were some cases reported--even just cases that were suspicious for secondary transmission through vaccine sheddnig--you can bet that scientists would want to study them. Even if it's possible, epidemiological evidence, specifically the lack of even a single well-documented case even after l'affaire Wakefield strongly suggests that it's really rare--possibly even nonexistent--even though virus shedding has been measured by PCR and documented.
Meanwhile, new measles vaccines are being developed, and scientists are testing them for vaccine-strain measles shedding, while there are occasional case reports of measles being detected away from the injection site after vaccination. In fact, there are studies looking at new vaccines, and these studies include--yes--measurements of vaccine shedding by various means. Seriously, one might argue whether adequate studies have been done, but to claim that no studies have been done is so ludicrously wrong that it beggars the imagination that someone would make such a claim when some fairly easy PubMed and Google searches easily show otherwise.
After echoing Heckenlively's invocation of XMRV as a new way to cause autism, Jake then proceeds to dive into tinfoil hat territory. In particular he parrots the claim that the CHAT polio vaccine used 50 years ago in Africa is the origin of HIV and AIDS, a claim that refuses to die despite multiple refutations (1, 2, 3, 4, 5). Basically, testimony by eyewitnesses, documents from the time, epidemiological analysis, as well as phylogenetic, virologic and PCR data all converge to reject as false the hypothesis that HIV/AIDS was derived from this polio vaccine.
Adding these up, Jake concludes:
But even setting aside all of these emerging scientific realities - adverse vaccine events still pose a grave public threat beyond just those who have negative reactions. That threat lies in the enormous costs of care for those people that society will incur - because everyone is recommended to receive vaccines; thus, a very high number of people are adversely affected, even if not directly. Society will be obligated to pay the tab for the immense morbidity caused - putting a strain on the healthcare system by raising everybody's insurance premiums while diverting funds from other health services. The net result is an adverse effect on care, and ultimately on the collective health of society. We don't think about it this way as much as we do about herd immunity, even though the net impacts of the former stretch far beyond the latter.
Basically, here Jake is taking estimates of vaccine complications not supported by science (such as his belief that vaccines cause autism) and problems exaggerated beyond all plausibility, mixing them with pure fantasy (the HIV/AIDS connection, for example) and putsthem all together in a blender to create a smoothie of non-data-based estimates of how much harm vaccines allegedly cause. He then compares this estimate to herd immunity and declares that his fairy dust has won out over science. It's pathetic and desperate, really. Jake knows that the herd immunity argument used by Art Caplan is a very, very powerful ethical argument; so he tries to dismantle it. Unfortunately for him, the argument is so powerful that the only way he can take it on is through the massive application of cherry picking, pseudoscience, and the massive exaggeration of vaccine risks, coupled with risks he can make up or twist to claim that vaccines cause harm to other people the way vaccines protect other people through herd immunity.
He fails spectacularly, as always. If this sort of essay is the best reasoning he can come up with, I shudder to think about what he's turning in to his professors. Let's put it this way: Learning at the feet of David Kirby, Kent Heckenlively, Dan Olmsted, and J.B. Handley is not a good way to bolster your academic credibility. Science stopper, indeed.